Chemfreight praises CrestClean for exceptional cleaning service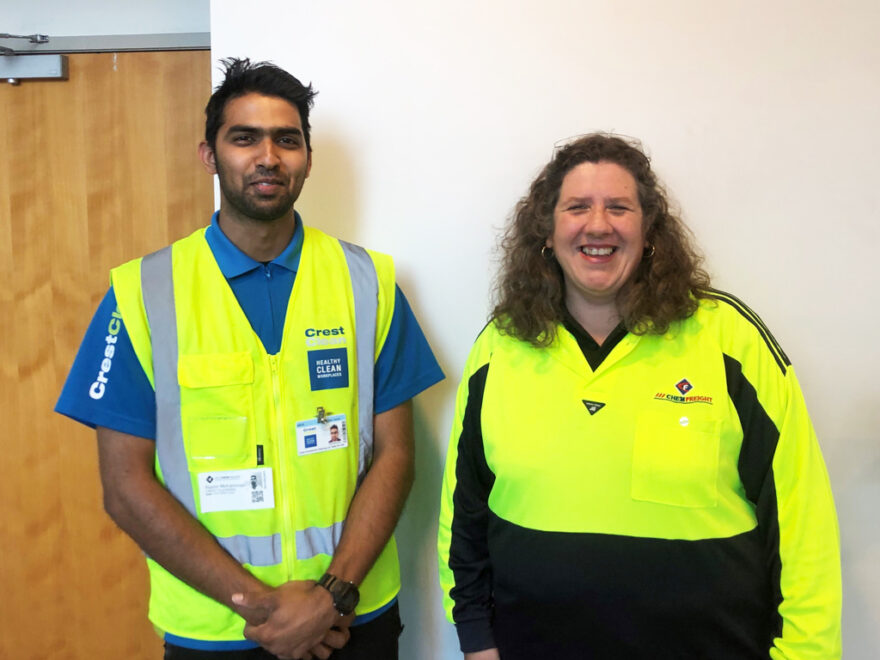 As a logistics provider specialising in hazardous and food grade storage, cleanliness and hygiene are very important to Chemfreight.
So, when their in-house cleaner of several years resigned, CrestClean was at the top of their list.
CrestClean had provided Chemfreight with cleaning services in the past, when their cleaner was away on leave, so they knew they would be in safe hands.
Five months later, Maintenance Planner Hanlie Van Zyl, can't speak more highly of CrestClean franchisee Razim Mohammad, who services the company's four Auckland sites.
"It's very important to us that everything is clean, tidy and hygienic because we deal with chemicals and food storage. We had used CrestClean in the past and they provided a really good service, so it was the natural way to go," says Hanlie.
"Razim is very detail orientated, he picks up on all the little things. He's very thorough and he's so friendly. Everybody loves working with him. He's just the best, everyone thinks so highly of him."
Hanlie says nothing is too much trouble for Razim, who always takes any extra requests in his stride.
"Sometimes you'll get an additional request, and I'll say, 'When you've got time', and then the next day it's all done and finished. The other day he was washing windows and I asked, 'Did we request it?' and he said, 'No, it's part of my job'. He is just on top of everything."
Even the older buildings on site are gleaming after Razim has cleaned them, says Hanlie.
"Once Razim's been through they look like new, you don't notice how old they are!"
Razim says Chemfreight is a great place to work, where everyone is treated as an equal.
"They respect each and everyone. They don't look down on me as a cleaner. They welcome me as one of their own. And Hanlie is amazing. She's always asking me if everything is alright, and asking about my family," he says.
Razim joined CrestClean in January last year after moving to Auckland from Christchurch, where he had been helping his mother in her CrestClean business.
Since then, he has grown his business five-fold, and received 14 Certificates of Excellence from the company in recognition of the high-quality service he provides to customers.
Due to the success of his business, he is now looking to buy his first home.
"He's very professional and accommodating, and all his customers love him. I'm so glad he came our way," says Linda Hill, CrestClean's Auckland East Regional Master Franchisee.