Meet CrestClean's Kāpiti Coast Franchise of the Year winners!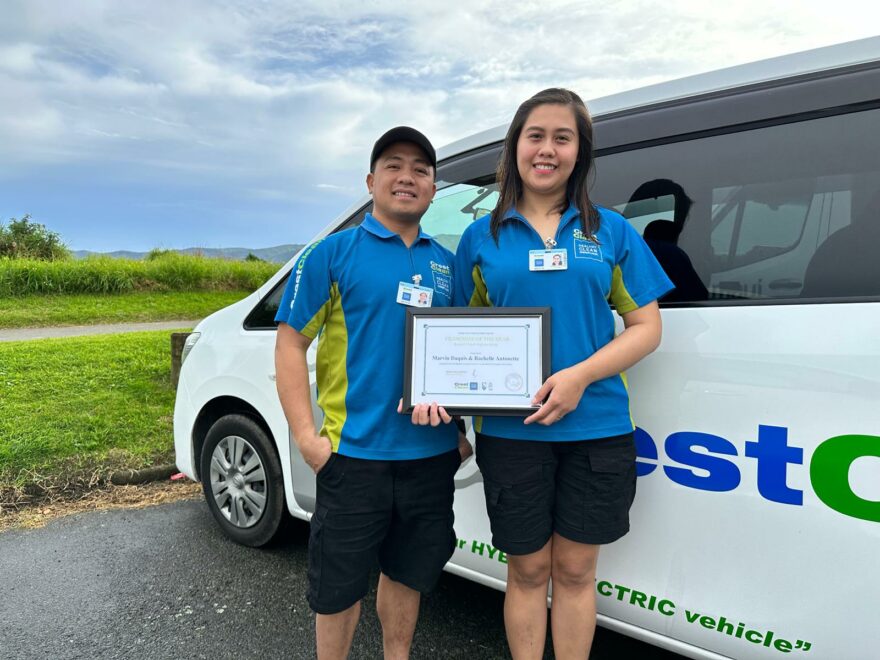 It's not even been a year since Marvin and Rachelle Daquis downed tools in their previous jobs and bought a CrestClean franchise, and the couple are already making a name for themselves.
At their recent regional team meeting, they were surprised to be awarded Kāpiti Coast Franchise of the Year 2023.
"We didn't expect it. I was really shocked because we have only been with CrestClean for 11 months," says Rachelle.
At first Rachelle was hesitant to buy a franchise — they were both in stable jobs, with Marvin working as a carpentry apprentice, while she was a caregiver at a rest home.
"It seemed too complicated to start a new life. We had just got our residency. I was doing well in my job and I was happy with it, and Marvin was doing his apprenticeship, so I thought maybe it wasn't a good move, but Mavin was adamant about starting a CrestClean franchise," she says.
"Now I'm so glad that we did. It's really good. We spend more time together as a family. That's the main thing I like about having my own business, I own my time."
Rachelle and Marvin moved to New Zealand from the Philippines in 2016, after Marvin was offered a job as the manager of a McDonald's restaurant in Queenstown. Rachelle, who previously worked in banking, found work as a caregiver, and they stayed in Queenstown for three years before moving to the Kāpiti Coast.
Marvin started a carpentry apprenticeship, spending two hours a day commuting to and from Wellington, while Rachelle picked up a caregiving job closer to home.
"Marvin would get up 5am, leave at 6am to go to Wellington, and get back here at 5pm. Every day he had to go back and forth, and when he got home he was really tired," says Rachelle.
"Marvin was scrolling Facebook and he kept seeing adverts for cleaning businesses in Wellington. Then we went to a friend's party, and met someone with a CrestClean business, and Marvin pursuaded me to start one."
Marvin and Rachelle have more than doubled the size of their business since they started it and are enjoying having a schedule that fits in well with their three children, Lauren, 9, Liam, 8, and Luka, 23 months.
"Now we have the day to ourselves and work from 3.30pm to 8.30pm. It's much better. "Some of our Filipino friends are asking us about CrestClean, and I tell them, it's a good job. I have more time for my kids, that's the best thing about it."
Shareen Raj, CrestClean's Regional Master Franchisee for Kāpiti Coast, congratulated Marvin and Rachelle on their "well-deserved" award.
"Throughout the year, they have shown remarkable teamwork, taking ownership of their responsibilities and consistently striving for excellence. Their hard work and perseverance have paid off, and they truly deserve this recognition and honour."