Fivefold growth in five years for Christchurch North Franchisees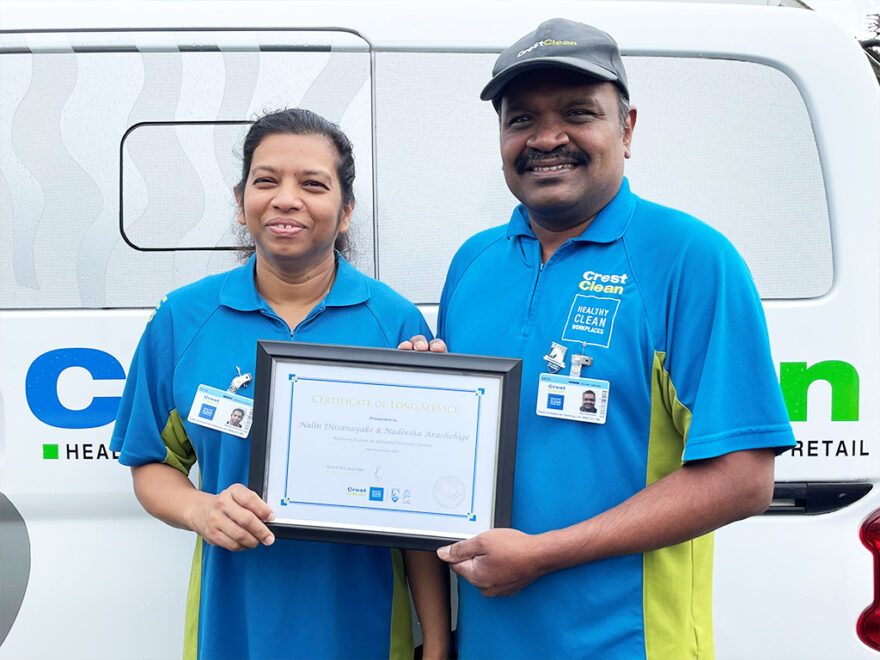 Not only are Nadeesha Kalansooriya and Nalin Dissanayake celebrating five years in business, the CrestClean franchisees are also celebrating a fivefold increase in turnover.
The Christchurch North franchisees, who were recently presented with a 5 Year Long Service Award, are proud to have grown their business turnover from $40,000 to $200,000.
"We are very proud of what we have achieved," says Nalin.
"It was our plan to grow the business and that is what we have done!"
And that is not their only achievement over the past five years! The hardworking couple have been awarded Franchisee of the Year for their region twice, and last year received a new award, Franchisee of the Year — Health, for consistently providing a high-quality service to healthcare sites.
Nalin and Nadeesha have also received multiple Certificates of Excellence after receiving glowing feedback from their customers.
The couple have gained a reputation for 'going the extra mile' — in 2018 they worked through the night to clean up after a water leak at Christchurch Eye Surgery, and in 2021 they saved the day again when they discovered another water leak, this time at the Forté Health building.
Having met in Sri Lanka, Nain and Nadeesha arrived in New Zealand in 1998. Both are qualified jewellery makers, a trade they continued until three years ago when they decided to go fulltime with CrestClean.
Nalin says he enjoys the work because it is low stress and the hours fit in well with family life, enabling him to take their three children to and from school.
"I've got free time during the day. I'm doing the same hours as I was before, but my income is more. It's an easy life with CrestClean."
Christchurch North Regional Manager Yasa Panagoda congratulated Nalin and Nadeesha on their five-year milestone.
"Time flies when you're having fun! It's hard to believe it has been five years working with Nalin and Nadeesha. I'm so proud of what they have achieved over this time period. A big thank-you to both of them for great customer care, quality of work and being such wonderful team players. Here's to the next five years!"